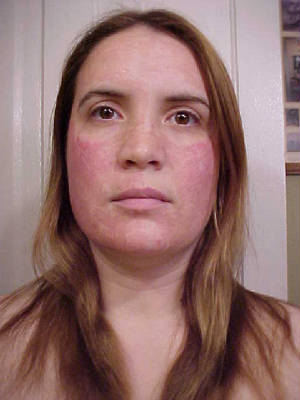 33 hours after procedure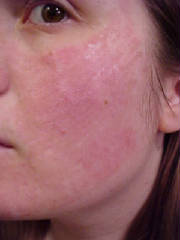 33 hours after procedure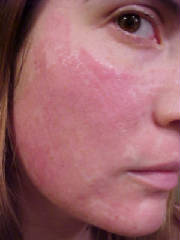 It's now 7:00 p.m. on Sunday, February 6, 2005. It is 33 hours after I had the laser treatment performed on my face. All burning is now gone from my skin and I can now flush the skin with warm water without that stinging sensation (comparable to taking a shower with a sunburn) These picture were taken after I washed my face off with water and removed the ointment that was on my skin. I took these pictures prior to putting the fresh ointment on to show my skin without the sheen of the ointment. During the one minute that it took to snap these pictures, my face became extremely dry and felt like an old gnarled shoe. I quickly put the ointment back onto my face. I have two more days of flushing my face with water and putting this ointment on. After that, I am to use a different lotion with the sunblock in it. I do not know if I will require a second treatment or not. The procedure, itself, really wasn't all that painful...then again, it wasn't as though the old skin was being licked off by kittens either. There is discomfort, but the procedure ends quickly. The greatest pain comes with the burning that you feel afterward but it is no worse than a bad sunburn and you will feel great discomfort/pain with that. Still waiting for the redness to go away. As of right now, my forehead is starting to return to normal color; but, the rest of my face still remains quite red. I will be calling a hair stylist on Tuesday, February 8, to set up a consultation on changing my hair.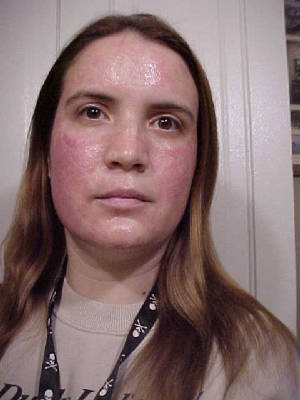 48 hours after procedure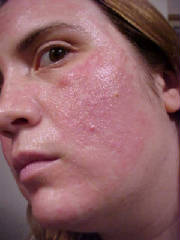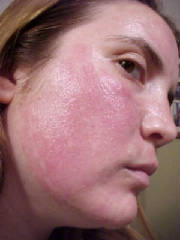 These pictures were taken about 11:30 a.m. on Monday, February 7, 2005 - 48 hours after I had the laser treatment. My face is still rather red. The good news...it started itching really bad today. I wanted to so much just reach up with a fork and dig at the skin - it was so very hard to ignore the urge to scratch. I go for a follow up visit tomorrow to see how the face is doing. I wanted to scoot my face across the floor like a dog does its...but that is how much it itched and how much I wanted to scratch.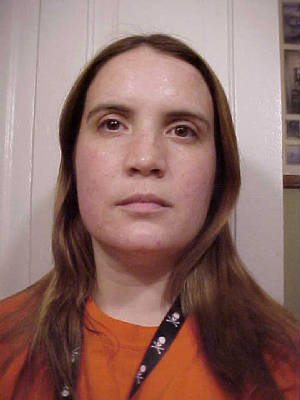 68 hours after procedure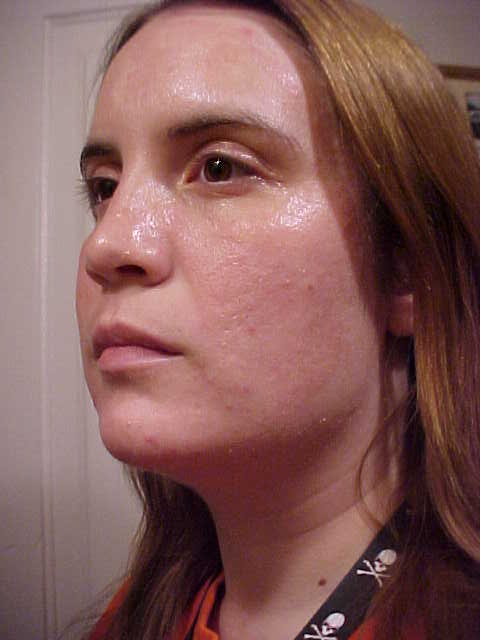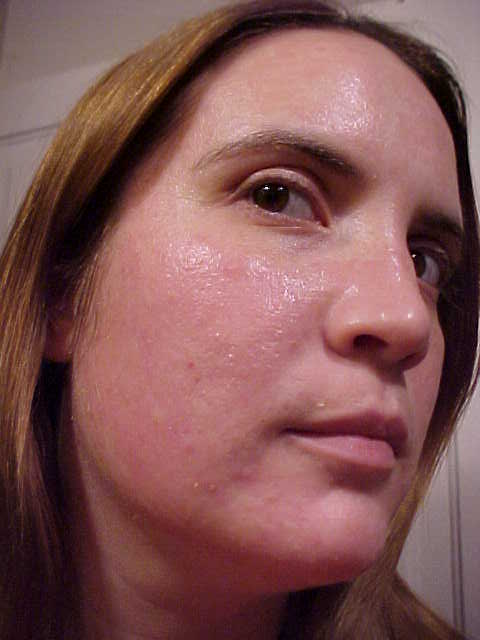 7:30 p.m. Tuesday, February 8, 2005: OK, OK - I have no funny stories nor any descriptions for this day. When I woke up this morning, I was surprised how much more clear my face was (so there went having another day of being able to tell the boss he had me too stressed!) With the redness going away, I'm able to see that the skin is smoother now. It's great. I know that the skin is starting to look better because I ran into an old co-worker of mine today at the Ponderosa who had not seen me in four years. The co-worker recognized me! The face still itches and having long hair doesn't help it any. I had my follow up visit today and all is good! Today was my last day for using one of the cremes that was sort of oily feeling (and hard to wash off the hands) to using a regular moisturizer with the SPF30 sunblock. The face feels funny now without that petroleum jelly-like substance on my face. This has been a good experience so far (even the feeling of having a sunburn in the beginning of February - hard to get when you're a Hoosier!).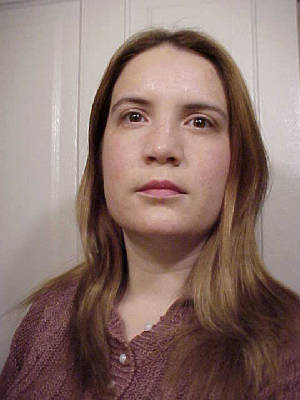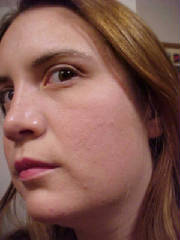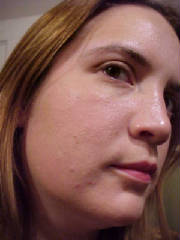 Wednesday, February 9, 2005: I think that these pictures speak for themselves. Definately looks a lot better today. The skin is still peeling (not the major peeling that you associate with bad sunburn) but more like a light flaking when you rub a towel over it or touch your face. At least I had a little fun with it at work today. The dryness is worse on my forehead - I reached up there with both hands when I was bored at work and rubbed my forehead shaking all this loose skin from my face. Then I said "I've got critters...can I go home?" LOL it's always something with me. I'll say anything. Really, it's doing pretty good, I only have to deal with a dry face and I keep applying the moisturizer to it. One big issue today: zits came back! They knew that I had smooth skin and decided, OK troops! It's time to rise and attack!! I still need to call and set up a consultation for my hair. I've been so busy during the days that I haven't had a chance to make the phone call yet. My face feels neat though. Just like when you just shave your legs - very smooth. It's nice. I'm so used to the ugly scarring. Now...all I need to do is to fix my crooked teeth and I'll be good to go for a picture LOL!!! I'll keep you all posted with the progress.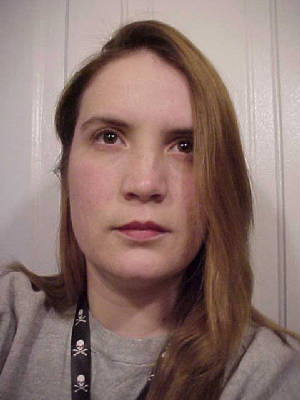 Day 6 - Friday, February 11, 2005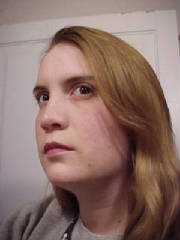 Friday, February11, 2005 - From looking at the pictures I've just posted today vs. what I posted last, I call tell that my face is deflating back to normal. My co-workers have all made the comment that the swelling was down...I guess that I just never noticed it. But yeah, my face was awfully round, wasn't it? Right now, I'm fighting the battle with dry skin. I purchased some cleanser for my skin from Regalo yesterday that should help it. In addition, I had my hair consultation yesterday. My hair will be done on Saturday, March 12 at Blades. So, it looks as though I will not be posting pictures for a while. There are still some holes in my face and though they are not as noticable as they once were, they are my own personal demons for my own reason and I must rid myself of them. I plan on having another procedure done some time in spring at Regalo (
www.laserskincare.com
)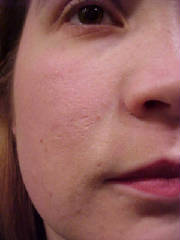 Close up on Friday, February 11, 2005
Dang - the above picture didn't post as well as I had hoped that it would. It's a close up of my face (in case you were wondering) that showed how smooth the laser had gotten the skin; in addition, it showed where I still have some holes in my face from acne scarring. So - I'm looking forward to another treatment though I will have to go through the sun burn phase again. I just wish that there was enough time before this show in March to get another treatment in, heal and then do hair and makeup. That would be the ultimate transformation then for the show. You can tell a large difference in the face already if you see me in person. These pictures on the site just kind of blur once uploaded. Ah well...